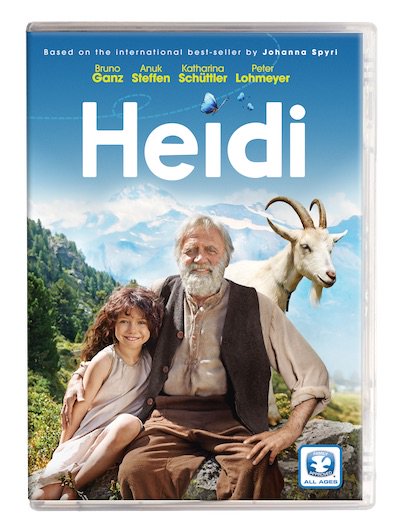 Heidi. 111 min. Omnibus Entertainment. 2017. $14.99. UPC 859686006109.
Gr 4 Up –Filmed on location, this adaptation of Johanna Spyri's 1881 novel about a Swiss girl who finds a home with her grandfather in the Alps is nearly perfect. Director Alain Gsponer's evident affection for the story informs the retelling. Each building, room, costume, and prop paints a convincing portrait of 19th-century Germany and Switzerland, from the elaborate table settings to the rustic but solid simplicity of the grandfather's alpine cabin. These and other details highlight issues that are just as relevant today as they were then: poverty vs. wealth, lack of opportunity vs. privilege, and freedom of spirit vs. spiritual imprisonment. While the novel emphasizes the importance of religion and individual spirituality, in the film, the significance of education and healthy living is the major focus. Composer Niki Reiser's score is subtle and lovely as poignant, melodic phrases weave in and out of scenes. While most of the score suggests Western European classical music, the last scene is redolent of traditional Swiss folk music. Bruno Ganz (think: the Swiss Anthony Hopkins) as the grandfather has few lines compared to other actors, but his performance is so subtly emotive that the pain of his mysterious past colors his every expression, while Anuk Steffen, who plays Heidi, blends sweetness and strength. Among the supporting cast, there is not one false note. VERDICT Heidi adaptations on film are plentiful, but this beautiful and faithful rendering is extraordinary. This is a must-have for most libraries.–Jennifer Prince, Buncombe County Public Libraries, NC
This review was published in the School Library Journal June 2017 issue.