Pairing popular chapter books with thematically related nonfiction titles offers readers various entry points to a subject.
Pairing fiction and nonfiction books helps expose children to a variety of literary formats and inspires further learning by making connections across themes. Including nonfiction choices with the fiction stories you're sharing is a way to engage learners who prefer to read informational books—or vice versa. As school standards have become ever more focused on reading and deciphering nonfiction texts, pairing two or more titles on related subjects offers students multiple entry points for comprehension and engagement with the information. The following chapter books and middle grade novels are paired with related nonfiction texts, perfect for lesson plans and after-school programs with independent readers.
Fiction:
Leroy Ninker Saddles Up
by Kate DiCamillo (Candlewick, 2014). This first book in the "Tales from Deckawoo Drive" series, a humorous spin-off of the popular (and very funny) "Mercy Watson" series, stars a cowboy without a horse. Leroy Ninker loves watching Westerns at the movie theater where he works each night, and he has all the accoutrements that a cowboy needs—a lasso, a hat, and boots. But Leroy is missing one important thing: a horse. When he sets out to buy a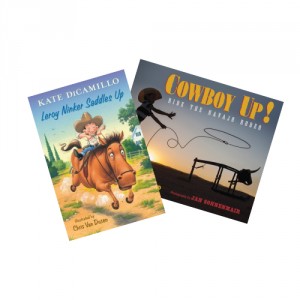 horse, he meets Maybelline, and it's love at first whinny. Maybelline may be old, she may be contrary, but Leroy knows that she's the horse of his dreams, and he'll do what it takes to make Maybelline his and keep her safe.
Nonfiction Pairing and Activities:
Cowboy Up!: Ride the Navajo Rodeo
by Nancy Bo Flood (WordSong, 2013). DiCamillo's Leroy fancies himself a cowboy, but what is the cowboy life really all about? In this book, Flood gives readers a glimpse inside a Navajo rodeo, with brilliant photos and poems that capture the action of the day. Use this
activity guide
to delve into poetry activities related to this book. Candlewick also provides a
helpful activity guide to Leroy Ninker
, which includes discussion questions, vocabulary words, and language arts activities that go along with the book.
Fiction:
Rain Forest Relay
(Race the Wild, Bk. 1) by Kristin Earhart (Scholastic, 2015). The "Race the Wild" chapter book series is an adventure-filled romp that's sure to please young animal lovers. Russell convinces his friends to compete in the Wild Life, an around-the-world race to identify animals from clues and take photos of them. But when Russell is placed on a different team, he finds out what teamwork really means, and has tons of adventures along the way. This fictional series pairs well with nonfiction; each chapter ends with a page of facts about an animal or something interesting about a creature's environment.
Nonfiction Pairing and Activities:
After reading
Rain Forest Relay
, explore Sandra Markle's "Science Mysteries" books, especially
The Case of the Vanishing Golden Frogs
(Millbrook, 2011) and
The Great Monkey Rescue
(Millbrook, 2015). Science Links has
a lesson plan
on scientific research and environmental conservation to use with
The Case of the Vanishing Golden Frogs.
Lerner provides
a worksheet
using two of Sandra Markle's books to practice comparing and contrasting.
Fiction:
Lola Levine Is Not Mean
by Monica Brown (Little, Brown, 2015). Lola Levine means well, but sometimes her excitement gets the best of her. Lola loves soccer, but when she accidentally injures a classmate during a recess match, Lola's friends all think she did it on purpose. What can Lola do to convince them that she's not mean? The first book in the series, this is a great choice for readers who like stories about strong and funny girls such as Clementine and Judy Moody.
Nonfiction Pairing and Activities:
Soccer
(Magic Tree House Fact Tracker) by Mary Pope Osborne (Random, 2014). Build on Lola's love of soccer with a nonfiction book about the sport. The Magic Tree House Fact Trackers (aka Magic Tree House Research Guides) cover a variety of popular subjects and are written at a level that's accessible for many young readers. Yes, this is a nonfiction series designed to be paired with a specific fiction series, but don't be afraid to mix and match! The Magic Tree House website has a
soccer lesson plan
. Little, Brown has an
educator guide
to the "Lola Levine" series.
Fiction:
Ghosts
by Raina Telgemeier (Graphix, 2016). Catrina and her family have just moved to a new town in Northern California because it's better for her sister's cystic fibrosis. The cool, salty air of their new town makes it easier for Maya to breathe, but rumors of ghosts in their town make Catrina's breathing stop. Maya is desperate to meet a ghost; Catrina would rather stay away. But as the day when members of the town honor their loved ones who have died approaches, it may be time for Catrina to face her fears for her sister's sake. We don't have to convince young readers to pick up Telgemeier's books—they naturally flock to her
funny and poignant works. Some librarians and scholars have
criticized the treatment of Mexican culture and Día de los Muertos
in Telgemeier's book, so pairing this one with nonfiction may help students get a more accurate picture.
Nonfiction Pairing and Activities:
Funny Bones: Posada and His Day of the Dead Calaveras
by Duncan Tonatiuh (Abrams, 2015). Jose Posada was a Mexican artist known for his Day of the Dead
calaveras
—portraits of skeletons doing everyday things and festive activities. His calaveras have become a symbol of Día de los Muertos, and this book tells the story of the artist who created them and what they mean to Mexican culture. Scholastic provides a
discussion and activity guide
for
Ghosts.
The Center for Latin American Studies at Vanderbilt University has put together a
discussion and activity guide for Funny Bones
.
Fiction:
Wonder
by R.J. Palacio (Knopf, 2012). Auggie was born with a facial difference and has been homeschooled his entire life, but now he's starting fifth grade at Beecher Prep and dealing with classmates for the first time. This is another one I don't have to booktalk—this title has been a best seller for years and remains popular with children and teachers in a wide range of grades. A memoir for young readers was recently published that makes a great read-alike; the movie adaptation is also slated for release in November 2017.  Now's a great time to familiarize yourself with this book and read-alikes if you haven't already.
Nonfiction Pairing and Activities:
Ugly
by Robert Hoge (Viking, 2016).
Originally published in Australia,
Ugly
is a real-life story that's very similar to Auggie's fictional one. Robert was born with a tumor the size of a tennis ball in the middle of his forehead, and doctors weren't certain that he would survive or that his parents would be able to handle him. After some extraordinary surgeries that left him with a completely unique face, Robert went on to live a relatively ordinary childhood, dealing with strangers staring at him and being bullied by classmates but also pulling pranks and playing sports. Teachers and librarians have developed many, many lesson plans and classroom activities around
Wonder
. A Pinterest search will yield hundreds of results, but here are a few to get you started:
Rebecca Buckley, the librarian at McCluer High School, has created a WONDERful website with many activities and ways to integrate Wonder into your curriculum.