EVENT DATE AND TIME: Thursday, March 29, 2012, 3:00 PM – 4:00 PM T
Dive into the data from the most recent SLJ school library spending survey and learn how to use it to strengthen your advocacy work in this free webcast on Thursday, March 29, at 3 p.m. (EST).
Featuring informative presentations from Dr. Lesley Farmer – professor, author and international school library advocate and extraordinaire, and Sara Kelly Johns – former AASL president, advocacy expert and author of the all new SLJ Blog Make Some Noise!
Presenters


Dr. Lesley FarmerProfessor, California State University Long BeachDr. Lesley Farmer, Professor at California State University Long Beach, coordinates the Librarianship program. She earned her M.S. in Library Science at the University of North Carolina Chapel Hill, and received her doctorate in Adult Education from Temple University. Dr. Farmer has worked as a teacher-librarian in K-12 school settings as well as in public, special and academic libraries. She is active in the Education Section of the Special Libraries Association, and is the International Association of School Librarianship Vice-President of Association Relations. In 2011 she was selected for the ALA Beta Phi Mu Award for contributions to library education. A frequent presenter and writer for the profession, Dr. Farmer's research interests include information literacy, collaboration, assessment, and educational technology. Dr. Farmer's most recent books include Youth-Serving Libraries in Japan, Russia and the United States (Scarecrow, 2012),Instructional Design for Librarians and Information Professionals (Neal-Schuman, 2011), Using qualitative methods in action research: How librarians can get to the why of data, with D. Cook(American Library Association, 2011).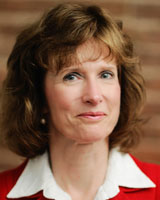 Sara Kelly Johns
Librarian, Lake Placid Middle/High School, NYSara Kelly Johns has been the 6-12 school librarian at Lake Placid Middle/High School since 1999 and taught at Beekmantown (NY) Middle/Senior High School before that. She is an instructor for Mansfield University's School Library and Information Technologies and was an adjunct professor for the Library Research Methods through Technology course at SUNY Plattsburgh from 1990-2006. The recipient of the 2011 New York Library Association's Presidential Lifetime Achievement Award, she also won the Excellence in Teaching Award for Adjuncts in 1999 as well as the sixth annual Award for Excellence in Library Service from the North Country Reference and Research Resources (3R's) Council in 1996. One of the writers of the National Board of Professional Teaching Standards Library Media Specialist standards, she served on the New York State Regents Commission on Library Service for the 21st Century and is a current member of the Regents Advisory Committee on Libraries American Association of School Librarians' (AASL) Legislative Committee, the ALA Committee on Legislation's Grassroots Advocacy Subcommittee and is the AASL Division Councilor for the ALA Council. She is a speaker and author of several articles on advocacy.
Register now to access the on-demand archive.