A host of maker apps await you and your library patrons, including one of our favorites that's free on iTunes this week.
App interactivity doesn't end with exploring environments, triggering animations, or deciding on gaming options. Many are produced with tinkering and creation in mind. In this column, we highlight a few of our favorite free-standing apps that offer drawing, building, or creation opportunities (to varying degrees). One good reason to spotlight them now is that The Robot Factory is free on iTunes this week. You'll see our review of that app below, along with others that have been featured in School Library Journal's app column, Touch and Go. Feel free to add your favorites below.
Architects have the ability to transform, inspire, and transcend on a grand scale, none more so than Frank Gehry, whose particular architectural vision is among the most distinctive in the world today. Terms such as 
post-structuralist
 and
decontructivist
 are often bandied about when discussing his work, but words alone do not suffice. Architecture needs to be experienced to be understood. For this reason, Touch Press built a highly visual, interactive app with numerous opportunities for exploration, discovery, and creation in
Apprentice Architect
(iOS,
Free
; Gr 3-6), an introduction to the Gehry-designed contemporary art museum in Paris, the Fondation Louis Vuitton. Six activities form the core of the experience. Each one introduces a different aspect of the development of the building. "My Sketchbook" and "My Studio" focus on visualization and design. The first is a simple 2-D tool that can be used to create a sketch of an edifice by selecting shapes from Gehry's palette of inspirational objects such as waves, sand dunes, and sailing ships, as well as colors, patterns, and backgrounds, then resizing, reshaping, and rotating them. "My Studio" is a 3-D tool for designing a building by manipulating glass sail and iceberg shapes, two of Gehry's structural building blocks. Any number of shapes can be chosen by color (glass sails) or pattern (icebergs), then positioned, sized, rotated, stretched, and shrunk to form a simple 3-D model. A whimsical touch includes a slider that can be used to "blow wind" into the sails. Other activities focus on exploring the structure of the museum and visual perspectives. "Look Around You" presents views from six vantage points inside the building and asks users to find the spot in the building they'd need to stand to see the views. "How Does This Work" offers high-resolution, panoramic images of four of the museum's structural design features, which can be explored visually in 360 degrees and probed for further information. The final two activities are more gamelike. "Where's Frank," a zoomable, cutaway graphic image of the museum's interior with people visible on the various floors, invites children to find specific museum employees (a gardener, an engineer, a guide, a curator, a visitor, an artist, etc.) and learn more about the roles they play. Children are put in the role of a crane operator in "Take the Controls," as they try to place glass panels into the curved roof of the museum without dropping (and breaking) them. While visitors to Fondation Louis Vuitton will appreciate
Apprentice Architec
t (the app has no sound, making it a discreet guide in the museum), children will also enjoy its engaging activities off-site. The text is available in English and French, the cartoonlike graphics are colorful and viewer-friendly, and the navigation is self-explanatory. Instructions for activities are available, if needed. When first entering the app, children can input their names. When leaving, they can choose to email themselves a certificate of their visit. If you're looking for a fun, hands-on glimpse into Frank Gehry's mind, creative genius, architectural style, and process,
Apprentice Architect
can't be beat.—
Kathleen S. Wilson, New York University, NY, NY
Christoph Niemann's latest production,
CHOMP
(Fox and Sheep GmbH,
iOS, $2.99;
Android
, PreS Up) is designed for children, but one that teens and adults will find as much fun—and as addictive—as youngsters. The interface is simple and easy to navigate. Niemann has provided approximately 60 hand-drawn, clever templates, each featuring a cut-out paired with an amusing animation. Users position the device's camera so that a face appears in the cut-out—either theirs or another person's. By tapping the screen an animation will begin. For example, with faces in place, a drummer plays a set; a strongman, dripping with perspiration, lifts weights; a musician belts out a tune on a saxophone; a faucet drips a photo; the head of a robot springs a gasket, and a shark chases a swimmer around and around in the water, then dances on his or her head. Children can move from template to template by swiping and viewing themselves in each drawing, or can create a video of the action with or without audio. Videos can be saved to the device and/or shared on social media. One of the most winning features of the app is that children can play with it on their own or with a group of friends, creating silly animated selfies or a gallery of pictures. Its ease of use and high fun factor will make
CHOMP
in high demand in programming and perfect for makerspaces.
A trailer
is available.–
Elizabeth Kahn, Patrick F. Taylor Science & Technology Academy, Avondale, LA
 The Complete Fairytale Play Theater (Nosy Crow)
Fans of Nosy Crow can now create stories featuring the developer's characters with
The Complete Fairytale Play Theater
(
iOS, $4.99
;
Free
, PreS-Gr 4). After selecting one of the six stories from the list of tales the company has produced (
Goldilocks and Little Bear
,
Snow White
,
Jack and the Beanstalk
,
Little Red Riding Hood
,
Cinderella
, or
The Three Little Pigs
), children choose a setting from a menu bar. The 10 settings include a castle, cottages, a beanstalk, and a forest, among others; all are illustrated in vibrant colors. To add figures, viewers tap and drag from the developer's cast of cartoon characters. Mixing and matching figures and creatures from different stories is possible, allowing kids to create fractured fairytales. An array of props provides story accessories, and 11 options for background music set the mood. The app is easy to navigate (preschoolers shouldn't have a problem), but short tutorials on setting the stage, moving the camera, recording and playing, etc., are available. Once the scene, characters, and music have been selected, children may choose to narrate and record the story, moving the characters about as they do so. In the finished product, the characters' mouths move to the recorded words, providing a cinematic feel to the tale. Older children may want to add multiple scenes to create more complex stories. Completed tales are saved within the app, but currently there is no way to share the stories outside the environment.
The Complete Fairytale Play Theater
is a superb storytelling tool that encourages children to express themselves, and it's likely to draw repeat visits from children who love to create, imagine, and perform.–
Cathy Potter, Falmouth Elementary School, Falmouth, ME
Build and collect robot creations in The Robot Factory (Tinybop, Inc.) illus. by Owen Davey
Tinybop's "Digital Toys" collection— Everything Machine , Monsters, Robot Factory—offers kids the tools (multiple appendages, gadgets, and gizmos") to build, test, play, and save creations. And the numbers are astounding; as of last spring kids have designed more than 5.2 million robots and created more than 120,000 machines.
In Everything Machine (iOS; $2.99), users can make a range of simple to sophisticated machines using their iPad's camera, microphone, gyroscope, and other features, and connect to other devices if they like. Sample inventions are offered and a downloadable "technical" manual provides details on the different parts to experiment with (with labels in more than 40 languages), along with instructions on how to use them.
For
Monsters
(
i0S, $2.99
), the developers spoke with to kids around the world to discover that while the concept of monster varied, one thing shared across cultures was the fear of scary things in the night. Noting that people create their own monsters, the developer states, "This app does the same thing.
The Monsters
gives kids agency over their fears, allowing them to make monsters of their own in a variety of settings. And to cast them away, if they wish." Design options include scales, horns, feathers, fur, or sparkles, and an assortment of eyes, mouths, and appendages. Animations, voices, and sound are additional options. Offering users 100 "exoskeletons, zephyr mechanisms, hydrostatic tentacles, machinos locomotors, G-Force mixers, and other parts to play with,"
The Robot Factory
(
iOS, currently free
; Gr 1 Up) provides children with everything they need to make robots of all shapes, sizes, and themes. "Robot cats. Robot samurais," and the list goes on. In addition, users can add sound effects and save their creations. All Tinybop apps are available in multiple languages and downloadable manuals are available on their
website
. Perfect for young children,
Labo Leaves
(Labo Lado Inc.
iOS S1.99
,
Android $.99
; PreS-K) provides users with 18 design templates. Each screen in the app presents four to seven colorful leaves of various shapes, sizes, and colors that children can drag to the correct (outlined) spot to create a figure or a familiar creature such as a fish, pig, dog, chicken, or cow.  When the picture is completed correctly, users are rewarded with a short, humorous animation. There is no text or narration to this crisply designed app, but a soothing melody plays in the background and the animated sequences feature sound effects. Arrows direct users how and where to turn the page; the rest is intuitive. Adults who work with children may want to use the app as a starting point for hands-on preschool art and science projects. For youngsters, hand-eye coordination and fine-motor skills come into play.  The app is user-friendly and no Internet connection is necessary once it is downloaded. A strong addition to the Labo Lado's collection of creative apps. Available in several languages.
–Amy Shepherd, Librarian, St. Anne's Episcopal School 
From Labo's Pebble Art ( Labo Lado)
A clothesline row of 22 pictures greets children on opening
Labo's Pebble Art
(Labo Lado,
iOS, $1.99
,
Android, $2.06
; PreS-Gr 1). After selecting an image with a tap, viewers are brought to a screen where the picture has been deconstructed. Their job is to reassemble the image puzzle fashion; a grey outline is provided. The shapes are large and few, so the task is not particularly difficult but it will call in young children's visual discrimination and fine-motor skills. Once the image is complete, a palette of bright colors becomes available (along with a thumbnail image of a painted image). Children can color the image by finger if they desire; a tap to a check mark icon indicates the painting is complete. Behind each finished painting is a related animated scene or game that incorporates the picture the appster has just completed. A blackbird walks along a grassy landscape seeking worms (some more dangerous than others), a caterpillar becomes a xylophone capable of creating a tune, and a screen floods with colorful beetles of different colors, sizes, and body types that when matched with its pair tallies into points discreetly noted in a corner of the screen. While most kids won't even notice the points accumulating, the games are timed. At the end of each one, confetti drops and a final score is noted. The app contains no narration, but background music accompanies the activities and some of the games incorporate their own songs or tunes. Simple, clean images, smooth functionality, and a variety of charming animations and delightfully inventive activities will keep kids coming back for more. Available in six languages.—
Daryl Grabarek
, School Library Journal One of the noteworthy publishing trends of 2015 was coloring books—for adults—of dragons, of mermaids, of quilts, of butterflies, and other subjects too numerous to name. These books point to coloring's ability to help people relax, de-stress, and often, to focus. Kids, of course, have long been fans of these books and while some published for the adult market are adult in nature, many of them can be shared with the children in your lives.
Now, along comes Millie Marotta's Coloring Adventure (Touchpress/Batsford; iOS, Free; Gr 3 and Up) for the iPad, and it looks like the trend has successfully made the leap to digital. The developer notes that "after just one week" the app was downloaded 100,000 times. Whether or not you believe in the restorative power of the act of coloring, the starter pack is free and worth a try.
Marotta
is the author of two coloring books, and by her own account, has a "mild obsession with all things flora and fauna." Characteristic of her artwork are images featuring "intricate patterns" and splashes of color. The app offers five pictures to paint and a palette of colors to choose from; tones can be adjusted. Artists can color by finger (the zoom-in feature helps), but any hope (or desire) of staying within the lines requires an iPad-compatible stylus, with the Apple Pencil (on iPad Pro) recommended. Users can start over or erase if they are not satisfied with their work, and masterpieces can be saved and/or shared with friends and family on Twitter, Instagram, or Facebook. The app is available in a number of languages. Coming soon are "Birds" and "Botanical"—add-on packs of pictures to purchase.
A trailer is available
.—
Daryl Grabarek
, School Library Journal
Skyscrapers (Tinybop, Inc.) illus. by Mike Ellis
"
Sparking curiosity, diving into big ideas, and making connections to the world
," are design objectives of the innovative developer Tinybop, Inc., and all are in evidence in
Skyscrapers
(
iOS, $2.99
; K -Gr 5), the seventh volume in their "Explorer's Library" series. Like the other apps in the series (
Plants
,
Homes
,
Human Body
,
Simple Machines
,
Weather
, and
The Earth)
, there are no instructions or directions; children are encouraged to dig in and play to discover how the app and the environment work. In
Skyscrapers
, the form and structure of the buildings can be altered and the water and electrical systems activated; a side panel allows for access to these and other functions. A variety of facades (curtain walls) and spires are available along with a palette of colors as children customize their buildings and develop a skyline. As they do so, they'll observe how adding floors (commercial or residential) causes the depth of a building's foundation to increase and flights of stairs to be added, etc. Inside the buildings, they'll be thrilled to discover they can move figures about to ride the elevators and use the lavatories. A tap to an icon allows for several up-close system views: in one, children can watch as an electricity meter rises and falls when they switch lights and appliances off and on. In another, they can observe how and where water drains and what  happens when a foreign object (a rubber ducky) clogs the plumbing. (They can also activate the repair.) Equally fascinating is watching the environmental effects of lightning, wind, or an earthquake on a building. Wind will cause it to sway; an earthquake causes it to shake, while sparking an electrical storm will cause lightning to strike the lightning rod (and travel down the structure to a grounding rod beneath the building). In buildings 18 floors or taller, viewers can install a "mass damper" and see how it alleviates environmental effects on a building. Ambient sounds (moving elevators, thunder, etc.) are heard as figures travel about the building and the weather outside changes. Whimsy enters, too: children can add elephants or massive rocks to the floors (the added weight impacts the building's foundation) and hot-air balloons float across the sky, along with a small plane trailing the player's name on a banner. As with other Tinybop apps, extended play rewards viewers, who will want to return again and again to add or subtract to their skylines. While there are no directions, there are labels with options for five languages. In addition,
a free online PDF
offers detailed background notes, including discussion questions—a boon to teachers and homeschooling parents.
The Tinybop blog
offers more information on the app's design and
an interview with the illustrator Mike Ellis
. 
A trailer
is also available.—
Daryl Grabarek
, School Library Journal
Sock Puppets (Smith Micro Software, Inc.)
Lip-synched puppet shows anyone? With
Sock Puppets
it's both quick and easy (Smith Micro Software, Inc. iOS, free to download, "complete pass"
IAP $2.99;
PreS-Gr1). On opening the app children are offered any number of characters to work with, from amorphous aliens in a variety of neon colors to Halloween-themed creatures to "real" socks with animal or cartoon features. Next to select are backgrounds, props, and scenery, either related to the characters viewers have chosen (spider webs, a haunted house, etc., for Halloween or planetary landscapes and space ships for the aliens, and so on), or, if they prefer, they can mix and match themes. Once choices are made, it's time to record a voice sample that can be adjusted high or low for each character, creating delightful voice distortions that promise to be nearly as much fun for users as moving their puppets in the various environments and creating a show. When ready to go, a tap to the puppet will have it lip-synching to the narrator's voice.
—Daryl Grabarek
, School Library Journal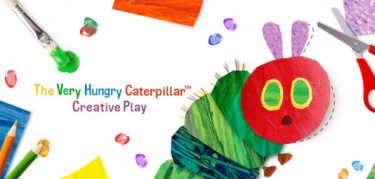 The Very Hungry Caterpillar: Creative Play (StoryToys Entertainment)
Young children will have hours of fun experimenting with colors, textures, and shapes in
The Very Hungry Caterpillar: Creative Play
(StoryToys Entertainment,
iOS, $2.99,
Android, IAPs
; PreS-K), the latest in the suite of apps inspired by Eric Carle's iconic picture books. The app includes 20 templates featuring characters from Carle's works including Brown Bear, Mr. Seahorse, and the Mixed-Up Chameleon. Navigation is intuitive. A menu at the top of the screen provides users with options for drawing, painting, or creating collage art. Kids can tap the scissors for cut-paper collage mode, touch the brush to paint, or select the pencil for drawing. The menu includes an impressive array of textures, patterns, and colors from which to choose. Collage art in the style of Carle is created by tracing dotted lines on the template to add various patterns of paper to the page, an activity that also provides an opportunity for users to exercise their hand-eye coordination. Background music can be switched on and off; on, the music provides a soothing ambiance for young artists. Children who wish to create their own pictures may choose a blank canvas instead of the templates. As they work, a curved arrow serves as an undo button allowing them to clear their work one step at a time in both drawing and painting modes. There's also the option to save pictures to a gallery or the iPad's camera roll.
Creative Play
will encourage young children to imagine, illustrate, and possibly write as they create their own masterpieces; its simplicity belies its possibilities. And, after spending time with some of their favorite characters, children just may be inspired to revisit their favorite Carle books. Language options are available, as is
a trailer
.
—Cathy Potter, Falmouth Elementary School, Falmouth, ME